If you're like me, your pantry may not be stocked with everything that you desire at this moment. So, I put together this Stuffed Peppers in Tomato Sauce recipe to encourage you to make do with what you've got… experiment, substitute ingredients and just have fun with cooking at home! You will be surprised how good it will be!
Ingredients
6-8 multi-coloured bell peppers (no peppers? try using a hollowed-out squash)
1 large sweet potato (small cubes – roasted)
1 tablespoon extra virgin olive oil
1 lb. ground turkey (or beef, or pork, etc.)
½ cup rice (uncooked) plain or flavoured (I had an open bag of olive oil & roasted garlic flavor)
1 cup orzo pasta (or other small pasta – or substitute an additional ¾ cup uncooked rice)
2 tablespoons extra virgin olive oil
28 oz can diced tomatoes – drained
2 ¾ cups tomato sauce – divided (homemade or store bought – I used a jar of arrabiata sauce)
¼ teaspoon salt
¼ teaspoon pepper
¼ teaspoon paprika
2 teaspoons Italian seasoning
2 cloves garlic (minced)
1 onion (diced)
2 celery stalks (diced)
¾ cup grated parmesan cheese (or mozzarella, asiago, etc.)
2 tablespoons chopped fresh basil (or parsley, cilantro, oregano, etc.) – plus more for garnish
salt (to taste)
pepper (to taste)
Preparation
Preheat the oven to 400°F.
Toss diced sweet potato cubes with 1 tablespoon of olive oil and season with salt, pepper & paprika (to taste). Spread sweet potato on a baking sheet in an even layer. Roast for 10 minutes then flip and cook for an additional 10-15 minutes until edges are crisp and middle is soft. Set aside to cool.
Cook the rice and orzo (if using), as per the package instructions and set aside to cool.
Lower oven to 350°F.
Drizzle extra-virgin olive oil into a skillet over medium heat and sauté the onions & celery for 2-3 minutes. Add the garlic and sauté 1 minute, then add the ground turkey, ¼ tsp each of salt, pepper & paprika, Italian seasoning and cook until browned. Remove to a paper towel to drain.
In a large bowl, combine meat mixture, cooked rice/pasta, drained diced tomatoes, ¾ cup tomato sauce, ¼ cup parmesan, chopped basil. Mix together and then season with salt and pepper to taste.
Remove the tops, seeds, and membranes of the bell peppers. Arrange peppers in an oven-proof pan or baking dish with the hollowed sides facing up.
Spoon the meat mixture equally into each pepper, well packed. Optional, top the peppers with the pepper lids. Pour remaining 2 cups of tomato sauce around the stuffed peppers (lift peppers to allow sauce to run under).
Cover the pan/dish with a lid/foil and bake for 45-55 minutes (until peppers are beginning to slightly wilt). Remove the lid/foil and spoon a little tomato sauce over each pepper, then sprinkle peppers with remaining ½ cup of cheese. Cook for an additional 15 minutes until cheese is beginning to brown.
Sprinkle with fresh chopped basil and serve.
Hope you enjoy this recipe! I would love to hear your feedback in the "comments" below!
In addition to this Stuffed Peppers in Tomato Sauce recipe, you can find more of my favourite dinner recipes here.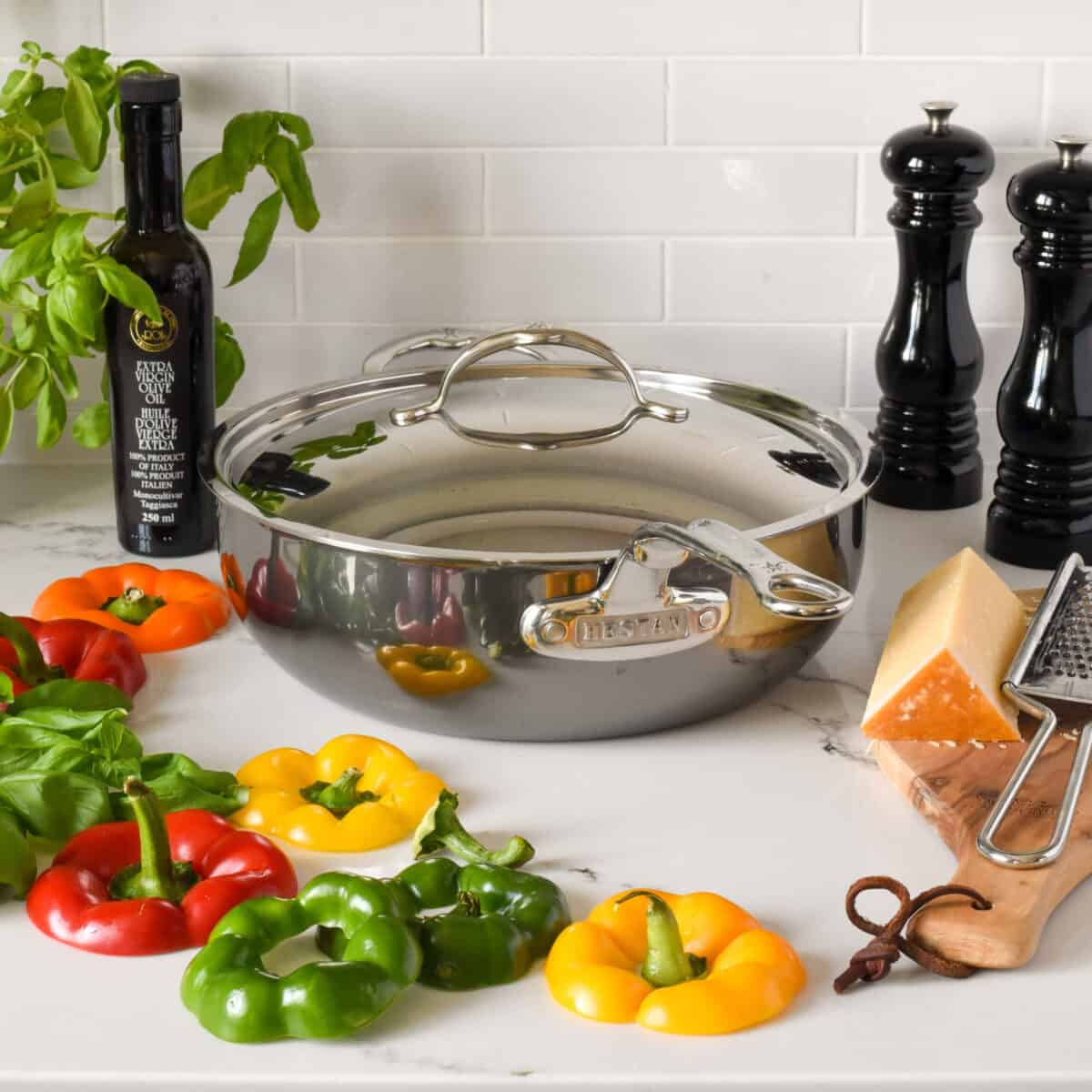 GIVEAWAY ALERT!
During this time when we all will be cooking from home more, Hestan Culinary and I have partnered to give one randomly chosen winner a Nanobond 5qt Essential Pan. The Essential Pan is perfect for whipping up a big batch of chili, soup, curry, paella, pasta, roasting a chicken, braising a roast or baking stuffed peppers in tomato sauce! From our kitchen to your kitchen, from our family to your family and from our home to your home, we are one community in this together! Be well friends! #HestanAtHome
Click here for details on how to enter. Contest closes at 6 pm EDT April 3, 2020
Proud Hestan Culinary Ambassador. Opinions in this post are my own.