I truly believe that a Leftover Turkey Pot Pie is one of the most satisfying comfort foods ever!
Perfect when made ahead and reheated for a quick weeknight meal or incredible when prepared following a day full of winter adventures… and nothing beats the smell of a pie baking in the oven.
No leftovers, no problem!
Thanks to Lilydale's Oven Roasted Carved Turkey Breast, I don't need to cook a whole turkey just to have the leftovers to make a pie with!
The best meals start with simple, quality ingredients! Lilydale's carved products are made with 100% high-quality Canadian raised poultry products, contain no additives or artificial preservatives, are nitrate free and most importantly taste great!!!
Ingredients
For the crust:
2 ½ cups all purpose flour
1 tablespoon sugar
1 teaspoon kosher salt
2 teaspoons fresh thyme leaves, chopped
1 cup (2 sticks) chilled unsalted butter, cut into ½" cubes (freeze for 15 minutes before using)
6 tablespoons ice water (plus more if needed)
For the filling:
3 tablespoons butter, plus more for greasing baking dish
1 ½ – 2 cups thinly sliced cremini mushroom
2 medium onions, finely diced
2 medium carrots, peeled and medium diced
½ teaspoon poultry seasoning
4 cloves garlic, minced
3 cups diced carved turkey
1 ½ – 2 cups gravy (directions below or use your favourite premade gravy)
1 ½ cups frozen peas
4 sprigs thyme, stems removed
Kosher salt
Freshly ground black pepper
Flaky salt
For the gravy:
3 tablespoons butter
4 tablespoons all-purpose flour
3 cups turkey broth (or good quality chicken broth) – heating in a pot
Salt and freshly ground black pepper
For assembly:
*Egg wash – combine one beaten egg with two tablespoons of milk and whisk to combine.
Preparation
Make crust:
In a food processor, combine the flour, sugar, salt and thyme. Add the butter and pulse for a few seconds at a time until the butter is the size of peas. Add the water and pulse again until the dough just begins to form. Add water (1 tablespoon at a time) as needed, until dough just comes together and is moist (not wet and sticky or too crumbly). Remove the dough from the food processor and form two discs. Cover in plastic wrap and refrigerate the dough for at least 1 hour.
Make Gravy:
Melt butter in a 1-quart saucepan set over medium heat. Add flour to pan and stir to incorporate and form a roux. Continue to stir until roux begins to lightly brown, 3-4 minutes. Add broth, ½ cup at a time, whisking to combine until all the broth has been incorporated, season with salt and pepper, bring to a boil, reduce to a simmer, and continue to cook until sauce has reduced and no floury taste remains, about 10 minutes. Remove from heat and set aside until ready to add to filling.
Make filling:
Preheat oven to 400°F.
In a large, deep-sided skillet over medium heat, melt butter. Next, add mushrooms and sauté flipping once for 4 minutes, add onions, celery and carrots and cook until softened, 5 minutes. Add garlic and thyme, cook for 4 minutes more. In a mixing bowl, fold diced turkey into gravy add peas, then mix into skillet, season with salt and pepper to taste. Remove skillet from heat and let cool until ready to assemble.
To assemble:
Roll out the first disc of dough on a floured work surface or between two sheets of parchment paper into a ⅛" thick sheet. Place into a greased (with butter), shallow 9″ pie dish (or 2 qt, 10 ½" x 8″ rectangular roaster/baking dish). Trim edges to leave a 1″ overhang and then add cooled filling. Brush edges with egg wash. Roll out second disk of dough into a large round (or rectangle) about ⅛" thick and place on top of filling. Trim and crimp edges, then use a paring knife to create slits on top. Brush with remaining egg wash and sprinkle with flaky salt.
** get creative – use a leaf cutter to decorate the top of your pie or cut dough into long strips and make a lattice pattern… have fun and experiment with different tops!
Bake pie in the middle of the oven, until crust is golden, and filling is bubbling, about 45 minutes. When the edges of the pie start to darken (about 10 minutes), cover edges with foil.
Let pie cool for 15 minutes before serving.
To serve, lightly sprinkle with fresh chopped thyme.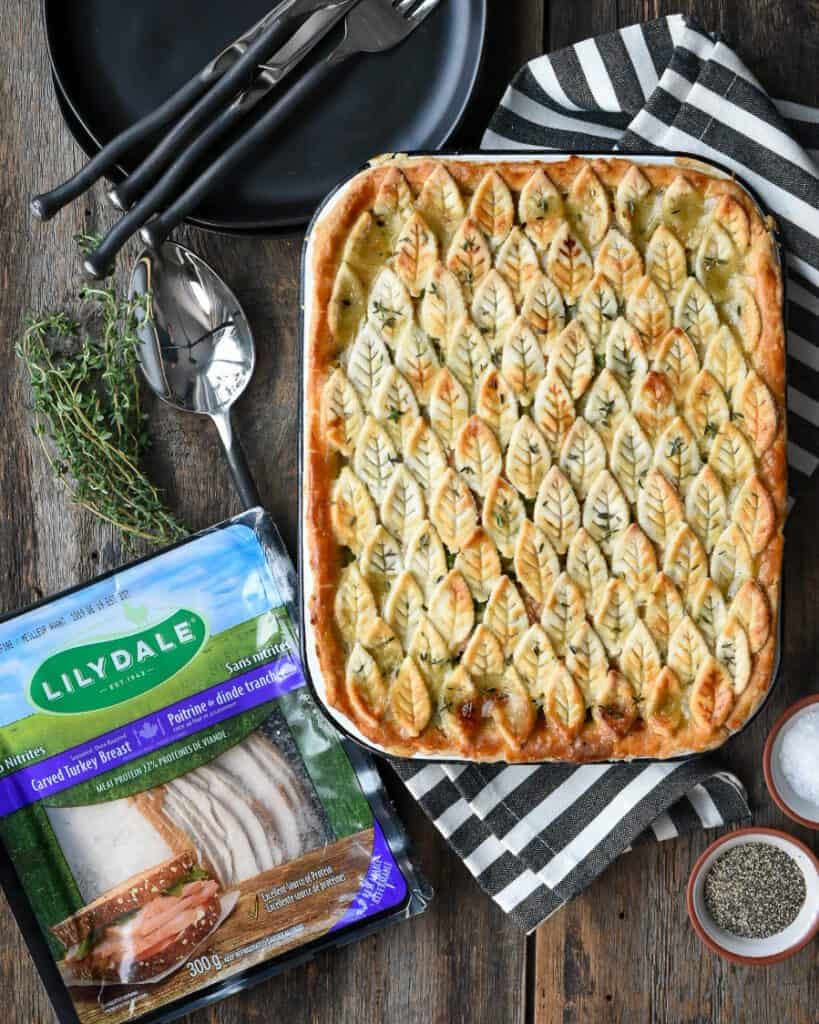 Hope you enjoy this recipe! I would love to hear your feedback in the "comments" below!
Disclosure: I have participated in a paid partnership with Lilydale. Opinions in this post are my own.