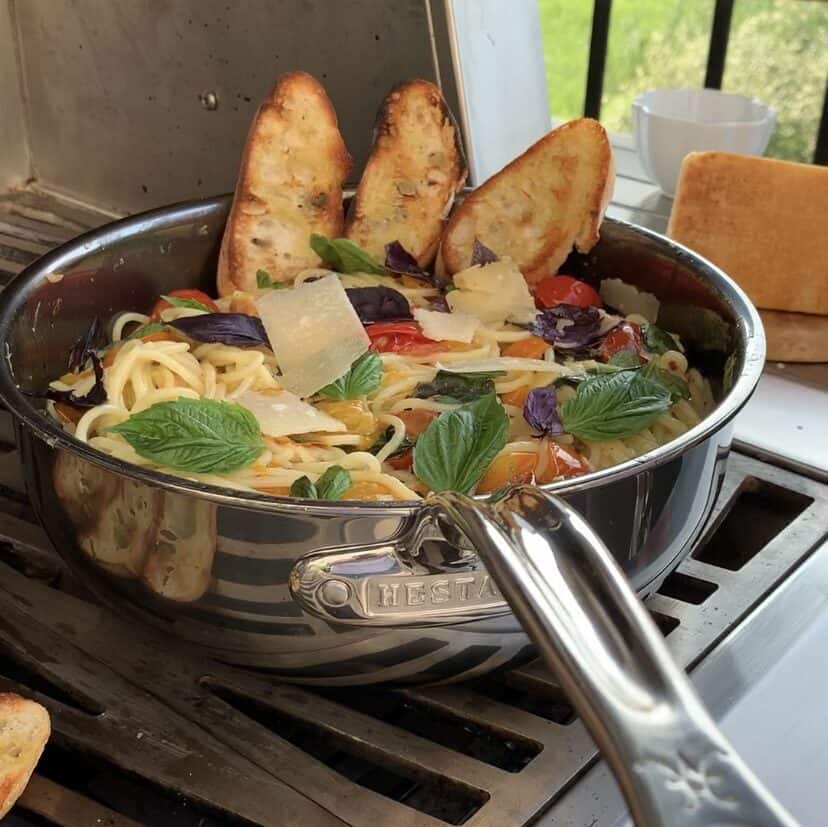 Few things have my taste buds screaming SUMMER, more than garden fresh tomatoes pulled straight from the vine at the peak ripeness! This Cherry Tomato-Lemon Spaghetti dish takes the bounty of cherry tomatoes and puts them to good use in an extremely fresh, easy and flavourful spaghetti dish. It's even better if you have garden fresh basil too!
Also, if it's too hot to cook in the kitchen, I made this whole dish on the grill and toasted some bread while the grill was on.
Ingredients
3 pints cherry tomatoes, halved
1/2 cup extra virgin olive oil
1 large shallot, sliced thin
1 teaspoon kosher salt
4 garlic cloves, minced
2 anchovies, finely chopped
1 tablespoon lemon zest
1/3 cup lemon juice, freshly squeezed
1 teaspoon pepper, freshly ground
2 teaspoons red pepper flakes
1 pound dried spaghetti
1 1/2 cups fresh basil, torn
1 cup Parmesan cheese, shaved
Preparation
Boil a stockpot of salted water then cook the spaghetti to al dente according to package instructions.
While the water boils, add the olive oil to a 3.5 Qt pan and warm. Add the shallots, salt and cook over low heat until they just begin to soften (4-5 minutes). Add the garlic, anchovies and cook for 2 minutes. Add the pepper, pepper flakes, lemon zest and lemon juice, raise heat to medium and cook for 3 minutes.
Add the tomatoes and mix to combine.
Turn off the heat, then add cooked pasta to the tomato mixture (don't drain the pasta, let some water come with it into the tomato mixture). Toss to combine, then add the shaved Parmesan and basil. Serve and enjoy!
Delicious served with fresh or toasted French stick or ciabatta.
Serves: 6
Prep Time: 15 Minutes
Cook Time: 15 Minutes
Hope you enjoy my Cherry Tomato-Lemon Spaghetti recipe! We would love to hear from you, please leave us your feedback in the comment box below.
Have a delicious day! James (aka Zimmy) & Elaine
---
Cooked in the Hestan NanoBond 3.5 Qt Essential Pan and 8 Qt Stockpot on the Hestan Grill.
Proud Hestan Culinary & Hestan Ambassador. Opinions in this post are my own.