Ontario Apples & Cheese Board
Just because we can't enjoy sampling Ontario Apples at the grocery store, doesn't mean you can't sample and try a taste testing at home! Adding apples to a cheese or charcuterie board is great option because the delicious (& healthy) slices act as the perfect crunchy cracker for cheese, meats and dips!
We have paired 4 Ontario Apple Growers varieties from with four cheeses plus a 4 Apple Salsa with Cilantro to make a delicious cheese board!
Ambrosia with brie
Let's start with one of my personal favourites the Ambrosia. It's crisp, juicy and light on the acid. Try pairing Ambrosia apples with Brie for a delicious treat. We love adding Ambrosia apples to a charcuterie or cheese board because they resist browning and stay fresh and crisp!
---
McIntosh with smoked habanero
Now an apple we grew up with, the McIntosh. Mildly tart, juicy but it sweetens as it ripens. McIntosh are great with flavorful cheeses like this smoked habanero cheese. McIntosh apples are really delicious in savory preparations, we love adding them to a pizza.
---
Honeycrisp with blue
Onto the Honeycrisp, they are sweet, juicy and crisp! The Honeycrisp is the perfect compliment for blue cheese. The crisp bright flavour of the Honeycrisp makes it a favourite to add to coleslaw as a perfect side to grilled meals.
---
Gala with cheddar
Finishing up with the Gala, they are sweet, fragrant and crisp! Gala apples are delicious on a skewer with cheddar. The Gala's sweet flavor becomes milder when cooked making them a perfect addition to curry dishes!
---
4 Apple Salsa with Cilantro
A light, fresh and flavorful salsa to serve on a cheese or charcuterie board. Also delicious served with pork or fish.
Ingredients
1/2 large apple (x4), cored and small diced, of each: Ambrosia, McIntosh, Honeycrisp, Gala
1/3 cup red bell pepper, seeded and small diced
1/3 cup orange (or yellow) bell pepper, seeded and small diced
1/3 cup red onion, diced
1/4 cup cilantro, chopped
1 jalapeño, seeded and finely diced
1/4 cup white balsamic vinegar (or substitute lime juice)
1 tsp. honey
salt and pepper to taste
Preparation
In a bowl, mix together the balsamic, honey and a sprinkle of salt & pepper. Stir to combine, then add the onions and toss to coat. Let the onions sit in the vinegar for 10-15 minutes.
Next add the 4 varieties of diced apples to the bowl and toss. Mix until the apples are well coated in the vinegar (this will slow down the browning process).
Mix in the bell peppers, cilantro, and jalapeño, then toss to combine. Taste and adjust seasoning if required. Use immediately or cover tightly and store in the refrigerator for up to 2 hours.
Salsa Prep Time: 20 mins | Total Time: 20 mins | Yields: 3 cups (approximately)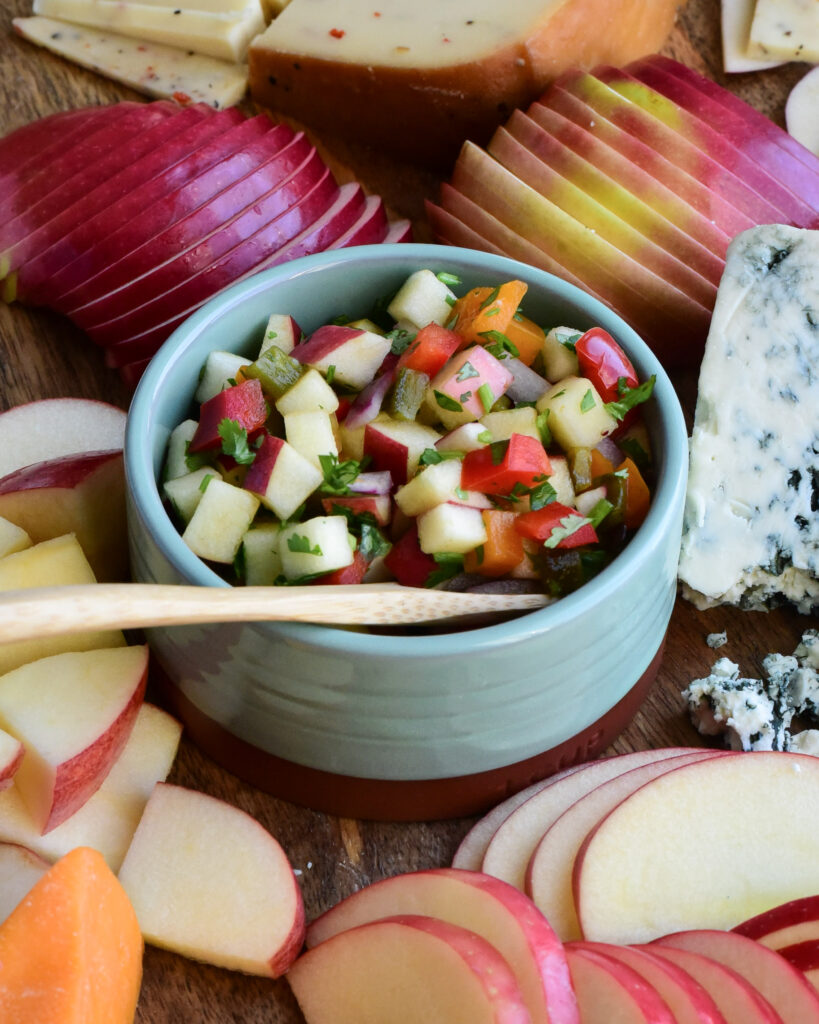 Adding apples to a cheese or charcuterie board is great option because the delicious (& healthy) slices act as the perfect crunchy cracker for cheese, meats and dips!
Ontario apples rank among the best in the world. The amazing growing conditions are due to the 3 great lakes moderating temperatures, creating warm sunny days and cool nights to create these tasty wonders of nature.
Care and handling. To keep the crunch in Ontario apples, store them in perforated plastic bags in your refrigerator crisper. Cold, humid storage ensures that apples maintain their crispness, juicy texture and full flavour.
Latest health related apple research indicates that apples may reduce the risk of: neuro-degenerative diseases such as Alzheimer's Disease, heart disease and high cholesterol, breast cancer, colon cancer, prostate cancer and chronic obstructive pulmonary disease (COPD)
TIP: Eat an apple 15 minutes before your biggest meal. The apple is filled with fibre and water, which will make you feel satiated sooner. As a result you will end up consuming fewer calories.
We encourage you to try an apple and cheese board at home and sample the amazing variety of flavours of Ontario Apples! Be creative, have fun with the family and create your own! We would love to hear from you, please leave us your feedback in the comment box below.
Have a delicious day! James (aka Zimmy) & Elaine
Disclosure: I have participated in a paid partnership with Ontario Apple Growers. Opinions in this post are my own.